House Washing
Green and black mold normally grows on the North side of your house but if not cleaned it will spreak to all sides of the property, Crew Cut thoroughly cleanses your home from mold, mildew and dirt washing from the bottom to the top. We use our cleaning solution to soft wash your house, leaving it as clean as new with no damage to the siding, screens or paint.
Fence & Deck Cleaning
Over time decks & patios can become faded by the sun through UV rays and covered by mold & mildew. Deck cleaning is an important part of maintenance and increasing the life of your deck or other wood structure. Cleaning is necessary to maintain a bare wood deck, in preparing a deck to be stained, and in cleaning and increasing the longevity of the finish after staining. Wood is one of the most difficult surfaces to clean with a pressure washer, wood can be easily damaged through the use of high pressure or strong chemicals. To clean a deck is important to use low pressure and a even application of the pressure to ensure a smooth finish.
Fence & Deck Staining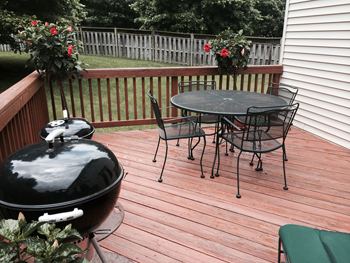 After your deck has been cleaned, we can apply a high quality stain to protect the freshly cleaned wood. We use high quality Stains and Sealants which are available in water or oil based forms in a variety of colors. Deck Staining will not only enhance the aesthetic value of the deck but also protect the wood from the harsh effects of UV rays and mold & mildew. Crew Cut stains decks, boat docks, pergolas, gazebos, and structures made from wood.
Concrete, Brick and Stone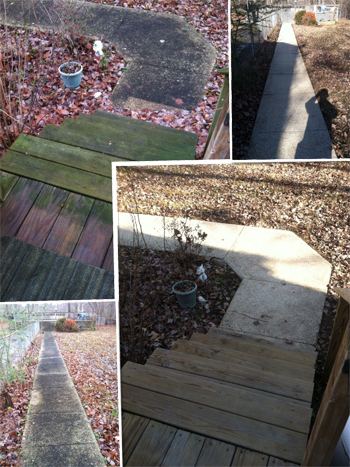 Over time driveways and concrete can become covered in mold, tannin stains (from leaves), and stains from red clay. Crew Cut can restore your stained driveway and sidewalks, sometimes with dramatic results. We first saturate the concrete with a detergent solution which loosens the dirt and grime. Then we use a surface cleaner, a machine powered by a pressure washer, to clean the concrete. After cleaning we thoroughly rinse the concrete, and mist the newly cleaned concrete with a special Solution to kill any remaining mold spores, ensuring the concrete stays clean for as long as possible.
Roof Cleaning
Have you noticed black streaks or dark discoloration on your roof? Many people believe the dark stains are an indication of the shingles going bad and expect to have to replace the roof. In fact the dark stains and streaks are caused by a form of bacteria named "gloeocapsa magma" which feeds off the lime deposits in the shingles.
The dark areas are formed on top of the algae to protect it from UV rays from the sun. If you look closely at a roof that is affected by staining you will notice the stains are worse in the areas of the roof that receive less sunlight and are shaded. The roof algae thrives in a shady and humid environment and will eventually damage the roof and can even spread to neighboring homes. The algae will continue to grow unless it is killed by a strong algaecide solution.
Roofs stained by roof algae can be safely cleaned, however no pressure should ever be used in the cleaning of asphalt shingles. Even low pressure can cause shingle grit to be loosened and removed which will reduce the life of the roof. Crew cut offers a No Pressure Roof Cleaning which uses a strong detergent solution which kills the algae and has mold inhibitors to prevent the algae from growing back quickly. Roofs can be cleaned at a fraction of the cost of replacing the shingles.