If you are looking for well designed, well maintained landscape, you came to the right place!
---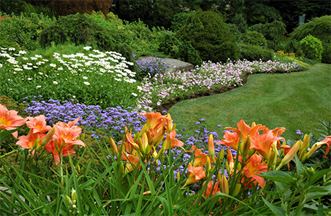 We provide services to make your lawn the best looking lawn on the block. Having a great lawn starts with a company who cares about the image of your property. We want your property to look its best. Routine mowing services are an important part of maintaining a beautiful and healthy landscape. We provide lawn services to maintain your existing lawn by maintaining it properly. Our lawn maintenance crew will maintain your property with attention to detail and will leave your property neat and tidy. In the Fall we provide Aeration and Seeding services to help rejuvenate you lawn, keeping it full and lush. Let us help you take your weekend back.
Learn more about our Lawn Services »
---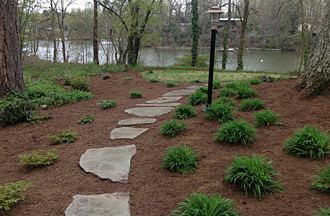 We provide landscape design, installation and maintenance services to the Anne Arundel, Howard County and Prince Georges county area. Crew Cut will work with you to develop a custom landscape design plan for your property or project and then will work with you to turn your dream into a reality. We also do smaller jobs too, If your just looking for a few trees and shrubs, or a patio, just let us know. We would be happy to help you.
Landscape Maintenance Services
Here at Crew Cut, we want you to enjoy your weekends without doing yard work. We offer regularly scheduled services to help keep your property looking its best at all times. We provide a long list of maintenance services including, Hand weeding, Shrub and Tree pruning, Flowerbed Edging, Pre-Emergent Weed Control, Leaf Removal & Mulch Installation
Learn more about our Lanscaping Services »
---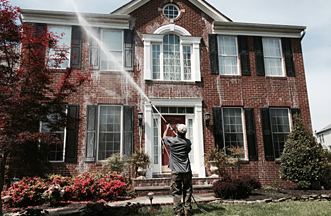 In our moist climate all properties suffer from green and black mold. We can clean all kinds of surfaces, and we know the best way to do so. Whether it is on a house with our proprietary cleaning solution and low pressure or on a concrete patio with high pressure, we can get it clean and looking like new.
Roof Cleaning Services
Have you looked up at your roof lately? Long Black streaks on your shingles or big dark areas on the roof are caused by a black mold growing on the shingle. Get the bright color of your roof back again by cleaning it with no pressure. Don't replace your roof, Wash It
Learn more about our Powerwashing Services »
---
Having a driveway, commercial parking lot, or other property zone paved with asphalt is a cost-effective and quick option that many residents of Annapolis, Edgewater and the surrounding Maryland areas choose to invest in. As an alternative to concrete, asphalt paving sets faster, is much more flexible, and holds up better to damage caused by brutal Maryland winters.
Asphalt Patching, Removing, and Replacing
The need for asphalt patching, removing, or replacing all depends on the type and significance of the damage. For instance, if there are only a few minor areas where the asphalt paving is cracked, patchwork may be all that's necessary. If damage is substantial, Crew Cut Enterprises can easily remove and replace it with brand new asphalt.
Asphalt Overlaying and Sealcoating
Age can have a large effect on an asphalt surface. With asphalt overlaying, we have the option to use the existing layers as a base for new pavement rather than having to tear up the entire surface and start from scratch. To protect your asphalt pavement from aging prematurely, however, we recommend sealcoating. In many instances, sealcoating can prolong the life of your asphalt for up to 15 years.
Learn more about our Asphalt Paving Services »
See What People Are Saying About Us!